God has given me a passion for motherhood and homemaking. From that passion, a ministry has birthed- No Higher Calling. There is no higher calling on my life than to be wife to Simeon and mama to my littles. Join with me on my motherhood journey as I seek to encourage moms and point them to Christ.
Episodes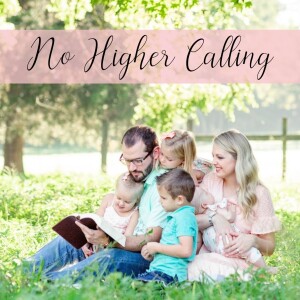 Thursday Apr 07, 2022
Thursday Apr 07, 2022
I've shared often how much Christ-honoring music plays a part in the atmosphere of our home. Recently, God's had the hymn "Because He Lives" on Simeon's heart, and God has used the truth of that song to encourage him and me! 
Sim joins me in this episode to talk about the current state of our world. We live in a world where chaos and confusion reign supreme. Where does that leave us as parents who are trying to have Christian homes and raise a generation for Christ? Should we just surrender and accept defeat? NO! We must place our confidence in God and Him alone, and fight the good fight of faith. 
Verse 2 of "Because He Lives" says,
How sweet to hold a newborn baby,
And feel the pride and joy he brings;
But greater still the calm assurance:
This child can face uncertain days because He Lives!
. . .
Because He lives, I can face tomorrow,
Because He lives, all fear is gone;
Because I know He holds the future,
And life is worth the living,
Just because He lives!
We can be confident knowing that though our children will face uncertain days, they can do it victoriously through the power of Jesus Christ! We are more than conquerors! This episode is a challenge to rise up with boldness and find a deep seeded peace in the promises of God.
Resources:
Blue-Collar Theology Podcast by Simeon Brazzell
Follow my  journey by subscribing to this podcast. You can also follow me on Instagram, Facebook, and www.nohighercalling.org