God has given me a passion for motherhood and homemaking. From that passion, a ministry has birthed- No Higher Calling. There is no higher calling on my life than to be wife to Simeon and mama to my littles. Join with me on my motherhood journey as I seek to encourage moms and point them to Christ.
Episodes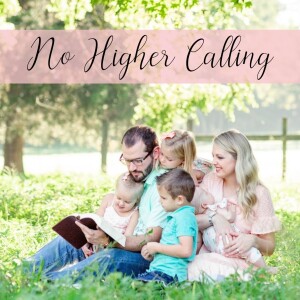 Thursday Apr 14, 2022
Thursday Apr 14, 2022
We are a very blessed people! So much of the world does not enjoy the immense wealth and bounty that we do in a first-world country. Yet, discontentment and unthankfulness so quickly capture our hearts.
These sins don't always revolve around finances or possessions. Often, we feel these emotions in connection with circumstances God has allowed into our lives. I know I have been there multiple times! As Amy Carmichael wrote, "In acceptance lieth peace." When we come to know more about God's character, we get a deeper glimpse of His sovereignty. This leads to acceptance of His perfect will for our lives, and a peace that circumstances cannot shake!
Contentment and thankfulness bring God glory and point those we influence to a faith that is unlike anything found in this world. Let's determine to trust the heart of our God and live lives defined by contentment and thankfulness!
Resources:
NHC Blog: Respectable Sins: Discontentment & Unthankfulness
Respectable Sins by Jerry Bridges
Follow my  journey by subscribing to this podcast. You can also follow me on Instagram, Facebook, and www.nohighercalling.org