God has given me a passion for motherhood and homemaking. From that passion, a ministry has birthed- No Higher Calling. There is no higher calling on my life than to be wife to Simeon and mama to my littles. Join with me on my motherhood journey as I seek to encourage moms and point them to Christ.
Episodes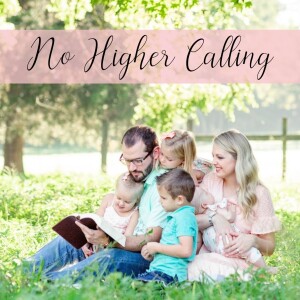 Thursday Apr 28, 2022
Thursday Apr 28, 2022
This episodes gives a recap of all that our family has been learning through our homeschool journey over the past few months. As we transition into having a new baby and a busy summer, life will look a bit different than it has in the first quarter of the year. As excited as we are for the upcoming months, we reflect on the past months with lots of fun memories. 
I share what we've been learning in these different areas-
Bible Memory: Psalm 1, Books of the Old Testament
Gather Round Homeschool Units: North American Birds, Asia, Botany
Read Alouds: Little Pilgrim's Progress, Little Pear, The Trumpet of the Swan, The Jungle Book, Charlie and the Chocolate Factory, Pippi Longstocking, Voice of the Martyrs The Courageous Series, and The Secret Garden
Enjoy a glimpse into our lifestyle of learning as I share some of the highlights of our homeschooling!
Resources:
Gather Round Homeschool (https://gatherroundhomeschool.com/) 
Follow my  journey by subscribing to this podcast. You can also follow me on Instagram, Facebook, and www.nohighercalling.org