God has given me a passion for motherhood and homemaking. From that passion, a ministry has birthed- No Higher Calling. There is no higher calling on my life than to be wife to Simeon and mama to my littles. Join with me on my motherhood journey as I seek to encourage moms and point them to Christ.
Episodes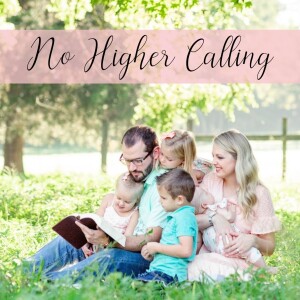 Thursday May 12, 2022
Thursday May 12, 2022
We live very busy lives as women devoted to marriage, children, homemaking, ministry, and more. Rest tends to be an area of life that is a struggle. In a world that promotes "self-care" and "me-time", what is the proper balance? 
God designed our bodies to require rest. If nothing else, it keeps our dependency upon Him as we follow His perfect order for our bodies. He goes even farther in His Word to give us a guide as to what proper rest should look like. We cannot serve as God intends when we push, push, push and neglect rest. We cannot serve as God intends when we are consumed with prioritizing our own needs over others. So how do we find the balance? 
Jessica Cutis joins me in this episode to discuss the balancing act of rest. Some of the points she addresses are 1. God's design for rest, 2. the difference between rest and idleness, 3. ways to rest our bodies, 4. ways to find rest for our souls. 
Resources:
Instagram: From the Heart of Mrs. Missionary (https://www.instagram.com/fromtheheartofmrsmissionary/)
Instagram: Blessed Purposeful Living (https://www.instagram.com/blessedpurposefulliving/) 
Jessica's Website (https://blessedpurposefulliving.com/) 
Follow my  journey by subscribing to this podcast. You can also follow me on Instagram, Facebook, and www.nohighercalling.org