God has given me a passion for motherhood and homemaking. From that passion, a ministry has birthed- No Higher Calling. There is no higher calling on my life than to be wife to Simeon and mama to my littles. Join with me on my motherhood journey as I seek to encourage moms and point them to Christ.
Episodes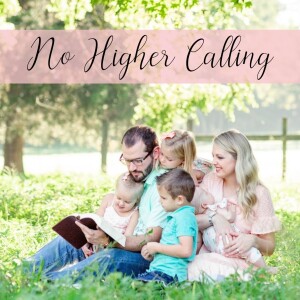 Thursday May 19, 2022
Thursday May 19, 2022
As we continue our Respectable Sins Bible study, we come to the sins of pride and selfishness. These sins are like a fibrous root system that spreads fast and wide and intertwines into many crevices of the heart. Jesus Christ gave us a perfect example of humility and selflessness. If we are to be conforming more into His image, we need to confess and forsake these sins!
We discuss several different aspects of pride such as moral self-righteousness, pride of correct doctrine, pride of achievement, and an independent, prideful spirit. I then transition into addressing a few common areas where we often struggle with selfishness. As women who have influence on other's hearts, especially young ones, we need to be setting a strong godly example in these areas. Let's be women who are becoming more and more like our humble Savior!
Resources:
NHC Blog: Pride & Selfishness (www.nohighercalling.org/blog/respectable-sins-pride-amp-selfishness) 
Respectable Sins by Jerry Bridges 
Comparison Girl by Shannon Popkin
Follow my  journey by subscribing to this podcast. You can also follow me on Instagram, Facebook, and www.nohighercalling.org