God has given me a passion for motherhood and homemaking. From that passion, a ministry has birthed- No Higher Calling. There is no higher calling on my life than to be wife to Simeon and mama to my littles. Join with me on my motherhood journey as I seek to encourage moms and point them to Christ.
Episodes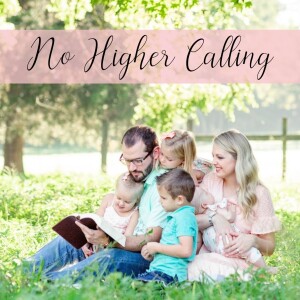 Thursday Jun 02, 2022
Thursday Jun 02, 2022
Philippians 4:5 ""Let your moderation be known unto all men . . ." In a culture where everything is done in excess, God has called us to live balanced lives where all things are done in proper moderation. One area of life that has become so difficult to balance in today's age is media, for ourselves and for our children. Sarah Boots from Altogether Lovely Collective joins me to share wisdom on how we can mother with wisdom in the digital age. As she shares staggering statistics regarding the hold that media holds over our children's generation, you quickly realize this is an area that requires our diligence in being a faithful gatekeeper!
Other areas she covers are 1. the default mode network, 2. the difference between books and technology, 3. how to handle boredom, 4. how to recognize when media has become imbalanced in the home, 5. ideas on how to replace media in the home.
This discussion was so helpful to me, and I know it will be to you as well!
Resources:
Altogether Lovely Instagram Page
https://altogetherlovelycollective.com
Altogether Lovely Facebook Page
Follow my  journey by subscribing to this podcast. You can also follow me on Instagram, Facebook, and www.nohighercalling.org