God has given me a passion for motherhood and homemaking. From that passion, a ministry has birthed- No Higher Calling. There is no higher calling on my life than to be wife to Simeon and mama to my littles. Join with me on my motherhood journey as I seek to encourage moms and point them to Christ.
Episodes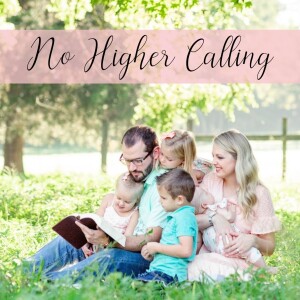 Monday Jul 04, 2022
Monday Jul 04, 2022
What a joy it is to have my spiritual mentor, Denise Palmer, joining me once a month for a Titus 2 Talk! On these special episodes, Denise and I will be doing a deep dive into the truths God has taught us through the book of Titus. 
On this episode, we discuss the word chaste. This word means to be pure of carnality, chaste, modest; immaculate; clean. So often, ideas of purity are connect with the outward. How do we dress? How do we present ourselves? Do we outwardly portray biblical womanhood? While all these things are important, the most important aspect is much deeper. We will not live a chaste outward life if we do not have a chaste heart. What does is say to our God who gave everything for us if we rest on Him for our soul's salvation, yet we continue to allow the filth of this world to reign in our hearts? As women who are seeking to conform into the image of our Savior, we must live lives defined by chastity.
We transition to several practical areas in which women today might struggle with being chaste, inwardly and outwardly. . .
-Pornography amongst women
-The influence of entertainment/media on our purity
-Guarding your relationships (as a married and unmarried woman)
I Thessalonians 4:3, 7 "For this is the will of God, even your sanctification, that ye should abstain from fornication: For God hath not called us unto uncleanness, but unto holiness."
Follow my  journey by subscribing to this podcast. You can also follow me on Instagram, Facebook, and www.nohighercalling.org