God has given me a passion for motherhood and homemaking. From that passion, a ministry has birthed- No Higher Calling. There is no higher calling on my life than to be wife to Simeon and mama to my littles. Join with me on my motherhood journey as I seek to encourage moms and point them to Christ.
Episodes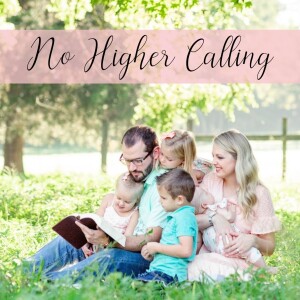 Thursday Jul 21, 2022
Thursday Jul 21, 2022
We live in a "bounce back" culture when it comes to the postpartum season. This often leaves mamas struggling physically, emotionally, and spiritually. What if we allowed ourselves the grace and freedom to slow down during this beautiful time and embrace a birth year? It took 9 months to grow a little human. What if we gave ourselves 9 months to transition into acclimating our baby into life?
Elizabeth Santelmann from Sunshine in My Nest joins me to discuss different ways we can embrace a birth year and thrive. As a homeschool mom of 3 boys, she has some great advice to share to help the transition be smooth for mama, baby, and the entire family. She addresses how to focus on one or two important tasks, how to ask for help, and how to communicate your needs to your husband.
Resources:
Sunshine in My Nest (Elizabeth Santlemann) Instagram
Elizabeth's Blog: Communication and Help
Follow my  journey by subscribing to this podcast. You can also follow me on Instagram, Facebook, and www.nohighercalling.org