God has given me a passion for motherhood and homemaking. From that passion, a ministry has birthed- No Higher Calling. There is no higher calling on my life than to be wife to Simeon and mama to my littles. Join with me on my motherhood journey as I seek to encourage moms and point them to Christ.
Episodes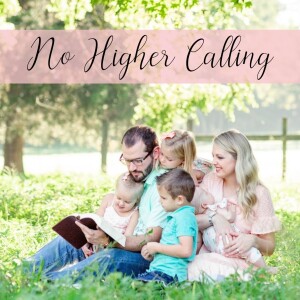 Thursday May 05, 2022
Thursday May 05, 2022
2 years ago, I launched the No Higher Calling blog with the post, Cloth Diapering 101. At that time, I had cloth diapered 2 babies, and so many mamas were reaching out with questions! Here we are several years later, and it is still a topic that I get asked about so often! Whether your motivation is to save money, to have a natural option for baby, or to take better care of the earth, cloth diapering can be a wonderful option! It sounds daunting. Who wants to deal with the mess and how do you begin to know how to get started? I have taken many of my notes from the blog post and shared them on this podcast episode. If this is something you've wondered about, I hope you find many helpful answers!
Resources:
Follow my  journey by subscribing to this podcast. You can also follow me on Instagram, Facebook, and www.nohighercalling.org