God has given me a passion for motherhood and homemaking. From that passion, a ministry has birthed- No Higher Calling. There is no higher calling on my life than to be wife to Simeon and mama to my littles. Join with me on my motherhood journey as I seek to encourage moms and point them to Christ.
Episodes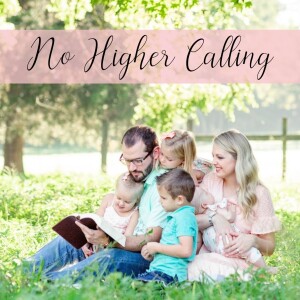 Monday Apr 25, 2022
Monday Apr 25, 2022
Rebecca Grant is a returning guest to the No Higher Calling podcast. She joined several months ago addressing the topic of Simple, Natural Living, and her episode has been one of the most downloaded episodes! 
She joins me in this episode to talk about nourishing your postpartum body. The postpartum period is a season of life that is often very neglected. So much investment is given to fertility, pregnancy, and birth, but then we are expected to "bounce back" immediately after having baby. Becca shares so much helpful information on why it is vital to slow down after having baby and replenish your body of the vast amounts of minerals, vitamins, etc that have been depleted while growing your little human. I cannot wait to implement so much of what she shares into my upcoming postpartum season!
Resources:
NHC Blog: Show Notes (www.nohighercalling.org/blog/nourishing-your-postpartum-body-with-rebecca-grant)
Instagram: Rebecca Grant (https://www.instagram.com/rebecca.m.grant/)
Instagram: Low Tox Talks (https://www.instagram.com/lowtoxtalks/)
Follow my  journey by subscribing to this podcast. You can also follow me on Instagram, Facebook, and www.nohighercalling.org