God has given me a passion for motherhood and homemaking. From that passion, a ministry has birthed- No Higher Calling. There is no higher calling on my life than to be wife to Simeon and mama to my littles. Join with me on my motherhood journey as I seek to encourage moms and point them to Christ.
Episodes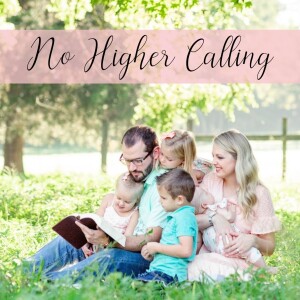 Thursday Apr 21, 2022
Thursday Apr 21, 2022
Whether you love cooking or loathe it, freezer cooking can be a helpful element in any kitchen! Life is in seasons, and different seasons present different levels of business and chaos. Maybe you're about to have a new baby, maybe you want to be quicker to say "yes" to hospitality, maybe you are trying to find rhythm in a busy work schedule- insert the blessing of freezer cooking!
In this episode, I share ways that freezer cooking has been a blessing to our household as I seek to "look well" to the ways of my home. (Prov 31:27)
I discuss. . .
-How it saves time, money, and cleanup
-Practical ways to implement freezer cooking (ranging from very minimal work to a bit more of an investment)
-How to plan, organize and stock up for successful freezer cooking
Resources:
Jami Balmet: Finding Joy In Your Home- Jami is a wealth of knowledge in many aspects of the kitchen!
Follow my  journey by subscribing to this podcast. You can also follow me on Instagram, Facebook, and www.nohighercalling.org