God has given me a passion for motherhood and homemaking. From that passion, a ministry has birthed- No Higher Calling. There is no higher calling on my life than to be wife to Simeon and mama to my littles. Join with me on my motherhood journey as I seek to encourage moms and point them to Christ.
Episodes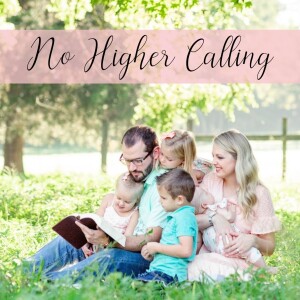 Monday Jun 12, 2023
Monday Jun 12, 2023
We enjoyed 3 wonderful weeks of having my mother-in-law in Australia with us. The time went way too fast, and we are already trying to plan her next visit!
While Roxanne was here, we recorded this Q & A episode together. It was a treat for me to get to share her with my podcast audience. 
Roxanne shares. . .
-Her salvation testimony, her favorite Bible verse, and her hobbies
-A mother's heart behind their child being called to a foreign mission field
-Inside scoop on the early days of Simeon & Brettnay's love story
-What makes a good mother-in-law and daughter-in-law
-What is one of the greatest joys of being a grandma
Resources:
I Rock Creations Instagram -Roxanne's business page for those local to Knoxville, TN
Follow my  journey by subscribing to this podcast. You can also follow me on Instagram, YouTube, and www.nohighercalling.org