God has given me a passion for motherhood and homemaking. From that passion, a ministry has birthed- No Higher Calling. There is no higher calling on my life than to be wife to Simeon and mama to my littles. Join with me on my motherhood journey as I seek to encourage moms and point them to Christ.
Episodes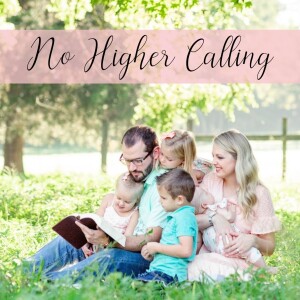 Monday Sep 18, 2023
Monday Sep 18, 2023
Proverbs 23:5 "Thou preparest a table before me in the presence of mine enemies:"
Before we are in the presence of our enemies, desperate for the nourishment that the Shepherd provides, He has already prepared a table for us. Loving care is required when laying a table, and no one prepares a table like Jesus! 
"What a tragedy when Christ prepares a table for me, yet I don't stop and grumble about my weariness as I walk by." -Evangelist Scott Pauley
In the moments of intense battle and spiritual depletion, may we stop at the table the Shepherd has provided and find the refreshment we so desperately need.
Scriptures Referenced:
Psalm 23
Resources:
Blue Collar Theology Podcast by Simeon Brazzell~ Bible Translations: https://blue-collartheology.com/podcast/holey-left-sleeves 
Hinds' Feet on High Places by Hannah Hurnad: https://amzn.to/3OZCxNR 
A Shepherd Looks at Psalm 23 by W Phillip Keller: https://amzn.to/3CJZGid 
The Heart of the Shepherd by Stephen Chappell: https://amzn.to/3Sh6B8R
If you do not know Christ as your Shepherd, email me at nohighercallingpodcast@gmail.com. I'd love nothing more than to share how Jesus Christ can be your Savior.
Follow my  journey by subscribing to this podcast. You can also follow me on Instagram, YouTube, and www.nohighercalling.org