God has given me a passion for motherhood and homemaking. From that passion, a ministry has birthed- No Higher Calling. There is no higher calling on my life than to be wife to Simeon and mama to my littles. Join with me on my motherhood journey as I seek to encourage moms and point them to Christ.
Episodes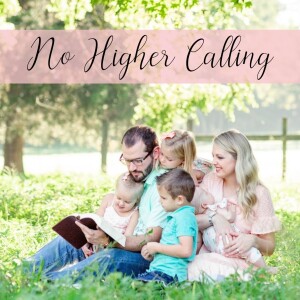 Thursday May 18, 2023
Thursday May 18, 2023
"We are living the transition between paradise lost and paradise restored." -Nancy Demoss Wolgemuth
One day, paradise will be restored. All will be made right. But for now, we live in a broken, sin-cursed world. Because of this, we often find our souls in desperate need of restoration. This beautiful phrase in Psalm 23 reminds us that it is our Shepherd who restores us. Once we have been through the green pastures and by the still waters, our souls are restored. 
Restore means to "revive, refresh, renew." Do you need your soul restored? God delights in trading beauty for ashes. Let Him take your brokenness and restore beauty to your soul. 
Scriptures Referenced:
Psalm 23; 51:7, 10
Isaiah 43:19; 61:3
John 4:5-30
James 4:8
Resources:
A Shepherd Looks at Psalm 23 by W Phillip Keller: https://amzn.to/3CJZGid 
The Heart of the Shepherd by Stephen Chappell: https://amzn.to/3Sh6B8R
If you do not know Christ as your Shepherd, email me at nohighercallingpodcast@gmail.com. I'd love nothing more than to share how Jesus Christ can be your Savior.
Follow my  journey by subscribing to this podcast. You can also follow me on Instagram, YouTube, and www.nohighercalling.org