God has given me a passion for motherhood and homemaking. From that passion, a ministry has birthed- No Higher Calling. There is no higher calling on my life than to be wife to Simeon and mama to my littles. Join with me on my motherhood journey as I seek to encourage moms and point them to Christ.
Episodes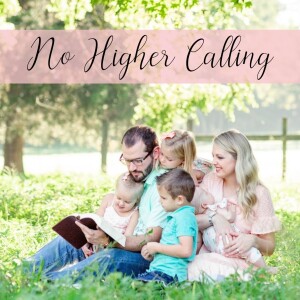 Monday Jun 06, 2022
Monday Jun 06, 2022
What a joy it is to have my spiritual mentor, Denise Palmer, joining me once a month for a Titus 2 Talk! On these special episodes, Denise and I will be doing a deep dive into the truths God has taught us through the book of Titus. 
On this episode, we define and discuss the word discreet. This character quality shows discernment or good judgment in our conduct and speech. As we study through this, Scripture reveals that this is not an exterior adornment; it is an interior heart work. When we pursue biblical womanhood, the Holy Spirit will develop a deeper Christlikeness in us. Mark 12:34 writes that Christ Himself answered discreetly. 
This episode presents the challenge for each of us to ask the Holy Spirit to reveal areas of our lives where we are not showing discretion. We then move beyond that to asking Him to show us how we can mentor those younger in the faith to also exhibit discretion in their Christian life.
Follow my  journey by subscribing to this podcast. You can also follow me on Instagram, Facebook, and www.nohighercalling.org