God has given me a passion for motherhood and homemaking. From that passion, a ministry has birthed- No Higher Calling. There is no higher calling on my life than to be wife to Simeon and mama to my littles. Join with me on my motherhood journey as I seek to encourage moms and point them to Christ.
Episodes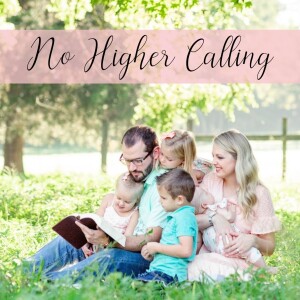 Thursday Jun 01, 2023
Thursday Jun 01, 2023
Simeon joins me to discuss the difference between convictions, standards, and preferences. This conversation can often be difficult, but God's Word gives a sure foundation of truth. We seek to define the difference of these three areas, and how we can best obey, glorify, and grow in Christlikeness in the decisions we make as families. 
In the age of social media, I often am asked questions about our choices, beliefs, etc. And being a ministry family, we have been approached for biblical advice regarding issues of conviction and how to deal with others who have differing opinions. Simeon answers these questions from the Bible, and I believe it will be a help to those who are seeking to take a firm stand on the truth of God's Word. Ultimately, we are each responsible for following the leading of the Holy Spirit and seeking His guidance through prayer and growth in our sanctification walk.
Scriptures Referenced:
Proverbs 22:3
I Corinthians 8:7-12
Titus 1:9
Follow my  journey by subscribing to this podcast. You can also follow me on Instagram, YouTube, and www.nohighercalling.org