God has given me a passion for motherhood and homemaking. From that passion, a ministry has birthed- No Higher Calling. There is no higher calling on my life than to be wife to Simeon and mama to my littles. Join with me on my motherhood journey as I seek to encourage moms and point them to Christ.
Episodes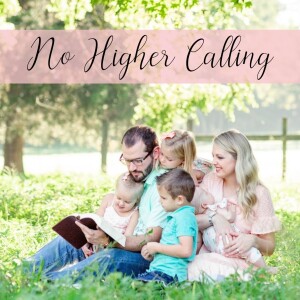 Thursday Jun 22, 2023
Thursday Jun 22, 2023
We are living in a day where children are coming in adulthood with little to no character. Being known as a man of your word or a woman of discretion is almost unheard-of. As Christian parents, it should not only be our desire, but it is our responsibility to instruct our children in righteousness and godly character!
God put it on our hearts to create a resource full of Scripture and biblical wisdom to aid parents in teaching their children character. The Children of Character cards are now available in the No Higher Calling Shop! In this episode, you'll heart my heart behind the creation of this resource as well as a glimpse into how this can impact your home and legacy.  
Enter the giveaway to win a FREE set of Children of Character Cards on my Instagram account- @nohighercalling_
Scriptures Referenced:
Proverbs 16:16
Galatians 6:9
Colossians 2:3
Resources:
NHC Shop: https://www.nohighercalling.org/shop 
Great Hymns for Growing Hearts: https://www.nohighercalling.org/new-book 
Aussie-Audio and Web Design: https://aussie-audio.com/ 
Follow my  journey by subscribing to this podcast. You can also follow me on Instagram, YouTube, and www.nohighercalling.org