God has given me a passion for motherhood and homemaking. From that passion, a ministry has birthed- No Higher Calling. There is no higher calling on my life than to be wife to Simeon and mama to my littles. Join with me on my motherhood journey as I seek to encourage moms and point them to Christ.
Episodes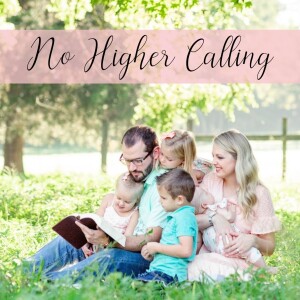 Thursday Jun 15, 2023
Thursday Jun 15, 2023
Many of our families are facing the struggle of rising food costs and limited budgets, yet while having a desire to feed our families wholesome meals. Jami Balmet from Finding Joy in Your Home joins me to share how cooking from scratch has blessed their family in these areas. She also gives great advice on how to make cooking from scratch a very practical part of your homemaking- it doesn't have to be overwhelming and daunting! By taking baby steps in your kitchen, you will see progress and growth.
Join us as we chat about. . .
-Figuring our your kitchen and cooking priorities
-Trusting God with our health and finding balance in our food choices
-How to afford to cook from scratch and buy in bulk
-Involving your children in the kitchen
Resources:
Finding Joy in Your Home Podcast
https://findingjoyinyourhome.com/
https://www.instagram.com/jamibalmet/
Jami's Cookbooks: https://findingjoybookstore.com/en-au/collections/cookbooks
Follow my  journey by subscribing to this podcast. You can also follow me on Instagram, YouTube, and www.nohighercalling.org