God has given me a passion for motherhood and homemaking. From that passion, a ministry has birthed- No Higher Calling. There is no higher calling on my life than to be wife to Simeon and mama to my littles. Join with me on my motherhood journey as I seek to encourage moms and point them to Christ.
Episodes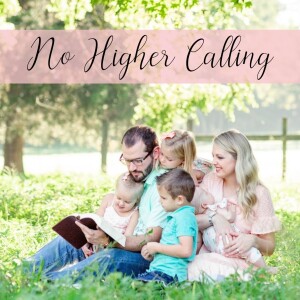 Thursday Jun 08, 2023
Thursday Jun 08, 2023
"But the path of the just is as the shining light, That shineth more and more unto the perfect day." Proverbs 4:18
The Christian life is a path, a journey that leads us down the road of sanctification. How do we know what path to follow? We follow the Shepherd who guides us!
In this episode, we discuss the path that God desires for us to walk, how to guide your children in the path of righteousness, what to do if you are doubting the path God would have you walk, how singing can free the soul, and more.
The purpose of the path is that God's name would be glorified. May we resolve to walk our path with commitment and passion as we pursue our worthy Shepherd!
Scriptures Referenced:
Psalm 23
Proverbs 4:18; 14:12; 24:16
Jeremiah 17:9
Matthew 5:16-18
John 10:27
Resources:
A Shepherd Looks at Psalm 23 by W Phillip Keller: https://amzn.to/3CJZGid 
The Heart of the Shepherd by Stephen Chappell: https://amzn.to/3Sh6B8R
Heaven Rules by Nancy Demoss Wolgemuth: https://amzn.to/3oKMLZ1 
You Can Trust God to Write Your Story by Nancy Demoss Wolgemuth: https://amzn.to/3LoHQoi
Suffering Is Never for Nothing by Elisabeth Elliot: https://amzn.to/3LoHQoi 
When God Doesn't Fix It by Laura Story: https://amzn.to/40LNXsA
If you do not know Christ as your Shepherd, email me at nohighercallingpodcast@gmail.com. I'd love nothing more than to share how Jesus Christ can be your Savior.
Follow my  journey by subscribing to this podcast. You can also follow me on Instagram, YouTube, and www.nohighercalling.org