God has given me a passion for motherhood and homemaking. From that passion, a ministry has birthed- No Higher Calling. There is no higher calling on my life than to be wife to Simeon and mama to my littles. Join with me on my motherhood journey as I seek to encourage moms and point them to Christ.
Episodes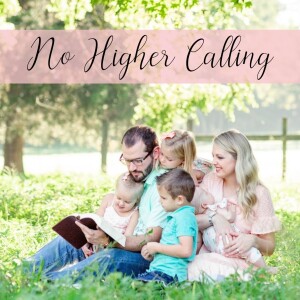 Monday Aug 21, 2023
Monday Aug 21, 2023
Motherhood is sanctifying work, and mothering a strong-willed child is extra sanctifying! The challenges parenting this personality type brings can lead a mother to feeling isolated, frustrated, and exhausted. What are we to do when everything we try doesn't work? How can we find hope in the midst of tantrums and attitudes?
Sarah Boots from Altogether Lovely Collective joins me to share how God is helping her grow in this area. This episode is less about the strong-willed child, and more about the mother who's been gifted that unique life. God promises to give us wisdom when we ask it of Him. Claim His promise and find strength to believe forward into the life of your child, seeing the potential that God has for them! 
Scriptures Referenced:
Galatians 6:9
Resources:
Altogether Lovely Collective Blog: Mothering the Strong-Willed Child https://altogetherlovelycollective.com/blog/mothering-the-strong-willed-child 
Altogether Lovely Collective https://altogetherlovelycollective.com/ 
Altogether Lovely Collective Instagram https://www.instagram.com/altogetherlovely.co/ 
Follow my  journey by subscribing to this podcast. You can also follow me on Instagram, YouTube, and www.nohighercalling.org