God has given me a passion for motherhood and homemaking. From that passion, a ministry has birthed- No Higher Calling. There is no higher calling on my life than to be wife to Simeon and mama to my littles. Join with me on my motherhood journey as I seek to encourage moms and point them to Christ.
Episodes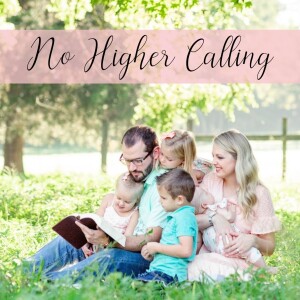 Monday Sep 04, 2023
Monday Sep 04, 2023
The topic of pregnancy after miscarriage is one that is rarely addressed. Maybe because it is often interwoven with deep grief and conflicting emotions. The Lord blessed Simeon and I with 3 babies, then we lost a baby in 2021. Since that loss, God has blessed us with 2 more babies. We are so grateful for every life He's entrusted to our care, whether it was for days or years. 
Pregnancy after miscarriage is different from pregnancy without experiencing loss. I have to battle doubts, fears, and emotions that I never dealt with in my first three pregnancies. A part of my heart wants to scream, "It's not fair!" But the reality is, we live in a broken, sin-cursed world and death is a part of the brokeness. Satan wants to keep my heart focused on my lack of control and his lies against God's character and promises. I have to fight to keep truth on the throne of my heart. But God gives victory! In Him, we find hope, joy, and a perfect peace that casts out all fear.
In this episode, I share my personal struggles with pregnancy after miscarriage and what God is teaching me about His character and love in the midst of my greatest joys and my greatest sorrows.
Scriptures Referenced:
Psalm 34:18; 94:19
Isaiah 26:3
Jeremiah 29:11
Mark 9:23-24
Romans 8:26
II Corinthians 10:5
I Thessalonians 4:13
Follow my  journey by subscribing to this podcast. You can also follow me on Instagram, YouTube, and www.nohighercalling.org