God has given me a passion for motherhood and homemaking. From that passion, a ministry has birthed- No Higher Calling. There is no higher calling on my life than to be wife to Simeon and mama to my littles. Join with me on my motherhood journey as I seek to encourage moms and point them to Christ.
Episodes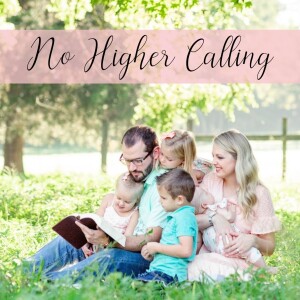 Monday Oct 02, 2023
Monday Oct 02, 2023
This episode is specifically for those who have been called to let go- to let go of those that they love who are serving Christ around the world. It was (and still often is) difficult for me to be so far from our parents, other family, and friends. But it is also difficult for those who remain behind and have to watch their loved ones board a plane.
I've received messages from others asking what it's been like to be so far from friends and family, how we "shorten" the distance, and ways that we help the grands stay connected with their grandchildren. We are only 8 months into our new life overseas, but we have had to navigate a vast array of emotions and learn to take comfort in what we do have and can do.
Resources:
Serving Well by Elizabeth & Jonathan Trotter: https://amzn.to/45WwDEI 
Resources:
Subscribe to the NHC Email! www.nohighercalling.org 
Follow my  journey by subscribing to this podcast. You can also follow me on Instagram, YouTube, and www.nohighercalling.org